Posts tagged "family matters"
More than conquerors
If God is for us, who can be against us?

Romans 8:31
Today as my brother was about to have lunch, our elder brother came and sat as well to have lunch but told us about what happened. Our new vehicle's(a Toyota Innova) back window got busted. My brother was about to leave the parking and backing up when a truck backed up as well and hit the window, also leaving a small dent. Before that, my brother just got a text message from a client confirming another event this December, and he was happy as we're mostly fully booked this month because of parties and events and he said, "Tuluy-tuloy lang, Lord(Let this go on and on, Lord)". And then boom, that happened.
That car has just been with us for only a month. And it's such a blessing! We never even thought that we could get a new car this year both here in Manila and Davao. God provides. :)
That happened in Davao as well with my brother's new truck. It was during All Soul's Day when they visited the cemetery and the truck got stuck in a canal since it was dark and there were no light posts lit on the road. His rear lights got busted and the back part had scratches as well. The truck's been with them for only less than a month.
We were talking about it during lunch and I was deep in thought when my brother asked me what's wrong. And I just realized something. God may be pouring out overflowing blessings and miracles, but the enemy has been also working double time. It's like in a tug of war. But God's protection is over us and we can say that the enemy has no power over our lives, in Jesus' Name!
And also those things can be replaced, at least it's nothing like a life taken or something like that. God is with us and He will never let His children fall especially if we are fighting the good fight of faith. No matter what comes our way, we should just stay focused and that is to focus on Jesus.
As it is, we are more than conquerors in Christ. The battle has already been won. :)
Text conversation with my cousin
Awhile ago after my cousin and I talked on Facebook, she SMSed me and asked this question, "Am I not beautiful?," which made me wonder why and replied immediately this, "What kind of question is that? Haha. You are! You are. Even on days when you don't feel like one, remember you are. Because God made you and that alone makes you beautiful. Inside and out. :)"
She told some other stuff I must have accidentally deleted. But I knew I replied this to her, "Maybe He's making you realize something out of the situation you're in right now. :)" I told her, "Maybe we have to be content and embrace our singlehood and learn to depend on Him alone right now and not on other people."
She's only 23 and she knows that it seems like she's rushing into things and looking for someone who could really fill up the hole. And I told her that we all have those days, that factor of society that makes us think we should be this and that at a certain point in our lives which leads us to rush into things when in reality, there's no need to rush.
And she said that for the past months when her mom has been away(she's currently on vacation in NZ with my cousin as well~ my cousin's older sister), she's like in this long dark tunnel and she wants to see the light at the end of it but instead it's going on and on.. And if she doesn't see that light, she feels like she has a huge hole in her heart. She said that the worst part of that is she doesn't know what to fill it with and said that, "Maybe it's Him I should instill in me. I believe I lost my connection with Him. And now I feel lost too."
That's how we are most of the time, we like to see the end result right away. But just like what I told her, I believe she's in a so-called process right now. We have to go through a process, and in that process, we grow and we learn more of what God wants us to realize. It's in the process that we learn.
I told her this, "I pray you will experience Him in amazing ways. 'Cause I know that with what you're feeling, lost and uncertain, only He can fill the emptiness. Nothing and no one else. It's only when we learn to be satisfied in Him and His presence that we are complete. :) Until we realize that, we will always find other things that will fill the emptiness and just so we won't feel so alone."
And I was just at the office while we were texting and she told me what I have just said gave her goosebumps. And said how much me and my faith has grown and how it does wonders. But seriously, I'm surprised with what I have said and I just wanted to fly to where she is and hug her right then.
I also told her that it's only us who keeps moving farther away from God, and He is just always there saying, "Ui, pansinin mo naman ako.."("Hey, look! I'm here!")
I told her that the Lord misses her.
And just like that, she broke down. She told me at that moment that she was crying. Because she knew and realized that God misses her.
I'm blessed to be surrounded with people who helps me grow more in Christ ~ my ministry, cell group and church friends. It's different when you're surrounded with those people and then the people or person who knew you since you were young, and then they say how much you've grown. I know I'm not the person I used to be, because Christ changed me.
I wanted to cry with her. I know God used me to say those to her and it wasn't me… It's all God. It's amazing how even in text messages that we can minister to the broken and the lost. God doesn't choose what medium we will use to tell about Him — be it in the internet, mobile, or in person— because it will be the Spirit who will do the work in the person. It's amazing how you can share of God's love to others at a time when they need it most.
God, You are ever so faithful, good and awesome! Praying that she will fully accept and surrender every area of her life to Jesus.
If we win, we praise God. If we lose, we praise God.
How do you praise God when you lose? When you are down? When you are full of trials in life? When you fail? When things didn't turn out the way you expected?
In this you greatly rejoice, though now for a little while you may have had to suffer grief in all kinds of trials. These have come so that your faith—of greater worth than gold, which perishes even though refined by fire—may be proved genuine and may result in praise, glory and honor when Jesus Christ is revealed.
- 1 Peter 1:6-7

I admit it is hard.
There are times when you don't know how you rise up from the failings and trials and you don't have a clue what to do and what comes next. That's when God comes in and says, "Take my hand, I got you." Only if we do let Him, we'll realize that God will always be there for us to hold us together when we are breaking, to carry us on His back when we can't walk anymore, to lift us up when we are down… even when we fail Him and all these are because of His amazing and unfailing grace and love.
Why we're still here is all because Jesus paid the price on the cross. He took all our sins and burdens in His shoulders. All that because He loves us. How can I not praise God even when I'm crying? How can I not sing praises to Him even when my heart is hurting? It's when we are down on our knees that we can see His power over our lives the most. 
Imagine, the God of the universe holds you in His hands and knows you inside and out and still loves you. No matter what others say and no matter how you find this unbelievable and no matter how you oppose it, God loves you.
The enemy will do so many things that will say otherwise, but the enemy has no power over us. God has the power over our lives. Triumph is on its way. God has it covered, I know that much.
"To have God in our lives doesn't mean sailing on a boat with no storms, rather it means having a boat that no storm could sink."
Day 37 in Davao
Today is Sunday, exactly 4:07am. I miss getting up in the morning getting ready for church to go to our assigned location and operate the laptop/LCD. I miss going to church. I never get up in the morning here to go to this church I'm planning to attend while I'm here and I'm just never on time for the afternoon service so I end up going with my brother and his family where they go to. I don't think they have anything later than a 4pm service here.
But anyway.. honestly, Davao is an awesome place. Would I live here? Yes. I've stayed here for 3 months or so. But would I stay here for good? I don't really know, I don't see it. Though when I'm here, my family and I could really hang-out together and go out every Sunday(and even on weekdays) — something I really want to happen when in Manila— and the food is really awesome, the beach is just an hour away or less, free wi-fi in every coffee shop and everything is just easier, better. But Manila is where I really grew up and it's like my comfort zone though everyday it still makes me go out of it, if that makes sense.
Maybe if I had no other choice but to stay here, and everyone will stay here as well, I might consider it. :) /endrandomthought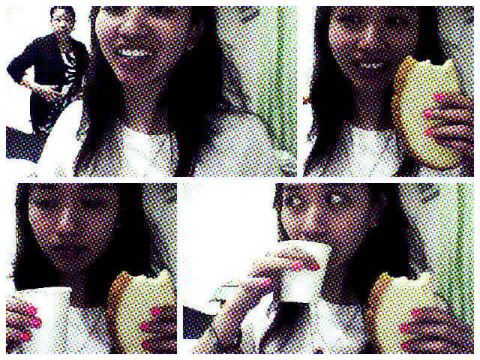 Hot choco + bread breakfast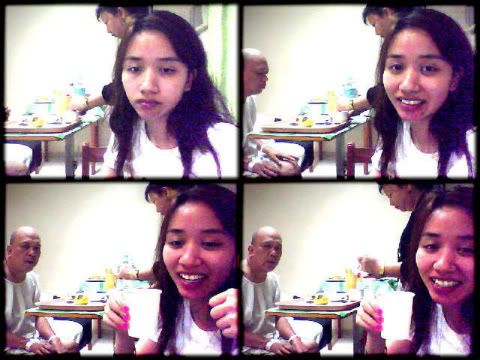 —
HH:MM PM / Sunday (still)
Tomorrow, my dad can prolly be discharged if everything goes well. The doctor said he really had a heart attack but again, thank God 'cause his body was able to cope up with it. I think it was last Saturday when his attack came and he was really perspiring and having those chest pains. Then it stopped and came back the next day. His body was able to endure it for days! It was mild but still, praise God talaga for that! God is good :) <3
—
Published: 5:00am of Monday (lol)